Our Journey Through Sicily
February 5, 2018
Welcome to Italian paradise. Welcome to farmhouse paradise. To foodies paradise. To sun chasers paradise. To yogi's paradise. We're so excited to have found designed this Sicily yoga retreat for you that blends all of our favorite things in life together in a magical week. Although yoga is always a highlight and any yoga retreat with Devon is on our bucket list, this one will surely be as rich in all all aspects of life as it will be in class.
Day One – Arrive
– A Typical Day –
8:00 am – Morning Practice
9:30 am Breakfast
10:30 am – Vendicari Nature Preserve & Calamosche Beach
1pm – Lunch
5:30 pm Yoga
7:00 pm Dinner
The Practice
The Practice: Your yoga retreat in Sicily will be designed around two daily practices, a morning Solar Activation practice and an evening Lunar Regeneration practice.
Throughout the retreat, Devon will guide you on a creative exploration and design of your yoga practice as an approach to sustainable living and intelligent lifestyle flow.
Modern yoga practitioners have ancient tools at their fingertips to approach living to the fullest, optimizing the mind and body through peak experiences in all sensory dimensions. This retreat is geared towards the yogi who wants to expand their understanding of practice as a means to optimize their individual well-being in relation to the collective evolution.
Afternoon sessions include ayurvedic, yogic, modern behavioral psychology, and bodywork methods to approach self-care, lifestyle planning, and personal energy-management.
Practitioners are invited to explore the balance between play and practice, recharging and exploring new dimensions of wellness and self care in a regenerative and luxurious environment. Danena Sicily is a one-hour drive south from Catania airport, on the island's east coast. On a country lane away from noise and neighbors, it's just 10 minutes south from the unspoiled World Heritage town of Noto – one of Italy's most beautiful historic centers. A 10-minute drive east is the Nature Reserve of Vendicari, a heaven of wildlife and some of the island's most beautiful and deserted golden-sand beaches.
Day Two – Connect to Nature
Our first full day in Sicily starts off with a hike in Calamosche beach at Vendicari Nature Reserve, just a 10 minute drive from our home at Danena.

Day Three – Explore & Learn
Our first big excursion together will take us to Ragusa to get a market tour with a local chef where we'll learn how and what to buy for our cooking class and lunch right afterward.
Day Four – Relax
A fresh water outdoor pool, three patios where to eat or simply relax, and a stunning sunset terrace.
Day Five – Explore & Learn
We love seeking out unique experiences at farms and so we've found a Ricotta farm and winery to take you to for lunch and the afternoon to learn all about making Ricotta (and eating it) and feel the pulse of farm life in Sicily.

Day Six – Relax
We built in this day to allow you to dive into the quiet and rest of Danena Sicily, or if you're adventurous and want more culture and action, to take an optional trip to Mt. Etna, visit Noto, take another cooking class or really explore anything your heart desires. This is a great day for massages if you're staying put!

Day Seven – Relax or connect to Nature
Our last day on retreat will be filled with our usually morning practice, breakfast & afternoon practice/dinner and you'll have the option of enjoying one last quite day by the pool at home, or taking a trip to Scali di Turchi. The Scala is formed by marl, a sedimentary rock with a characteristic white color. It lies between two sandy beaches, and is accessed through a limestone rock formation in the shape of a staircase.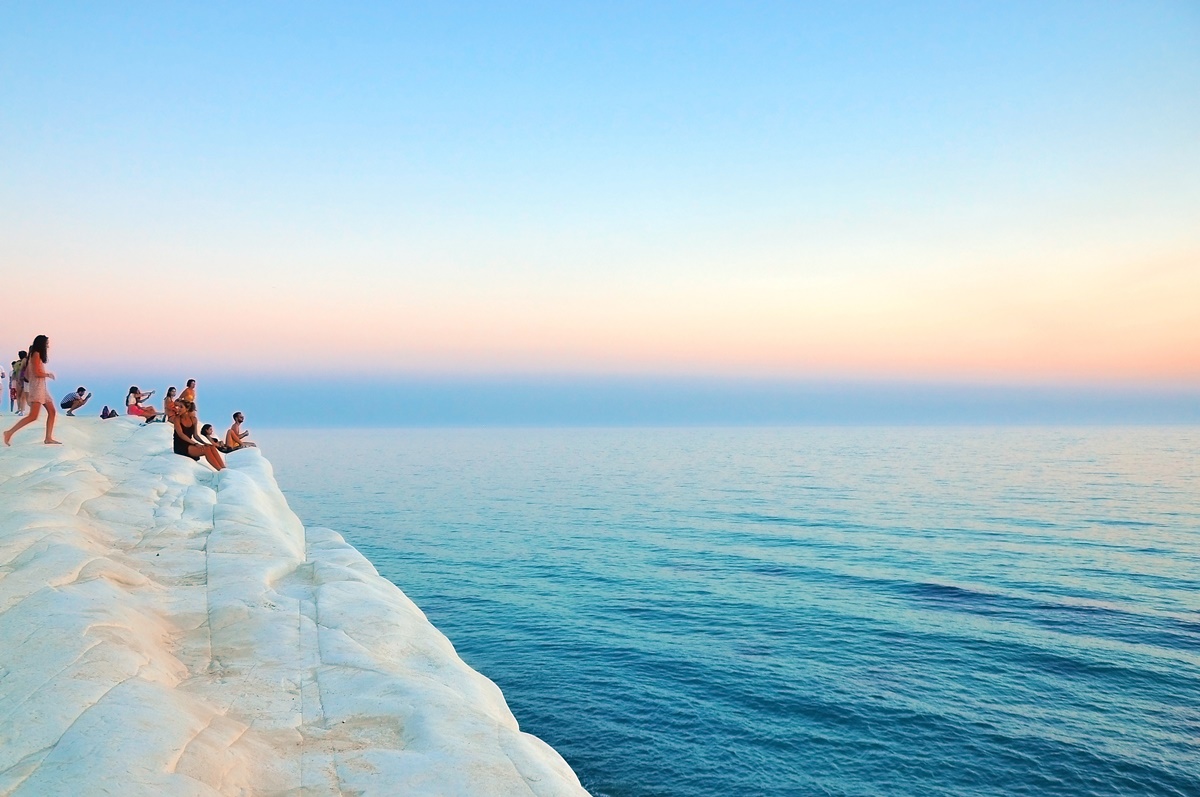 Day Eight – Return